Movies: 1135
Comments: 67725
Members: 718
Online: 0 Guests: 733
Exclusive: Voltron Force update
A little over a year ago, atrejub and I took a trip to WEP's main headquarters in St. Louis to get the lowdown on the latest Voltron developments. We got a few cool exclusives on the upcoming movie and Voltron Force, and were invited to come back some time for an update. Since Voltron Force will be debuting in under a month, we figured it would be a great time to drop in and get another advance look for Corona readers.
A lot has happened since last year's visit. Voltron has made cameo appearances on Breaking In and Megan Fox, some frankly untrue news stories have appeared declaring the live-action movie to be dead in the water (the short version: Charles Roven and Atlas Entertainment are still attached, and it's still in development), and fan interest in Voltron is higher than it has been since the eighties. The official Facebook page has over 100,000 fans--an impressive number for a show almost twenty years old. It's clear Voltron is back in a big way, and I'm glad the folks at WEP were able to find a place in their schedules to work me in.
They've been dropping bits and hints on the Facebook page all along, so that's the first place you'll want to go if you know nothing of Voltron Force, or haven't seen any of the storyboards and preliminary artwork. You'll also be able to see the NickToons promo spots embedded there.
I'm going to share some of what I saw there, but some of it you'll have to wait and see when NickToons premieres the commercial-free, ninety-minute movie on June 16 at 8:30 EST.
The first thing we got to see were some toy and game prototypes. ("Wow. Did Mattel do those? Will they actually come together to form Voltron?" I asked. The look I got in response made me think I must have asked a silly question. What good are lions that don't come together to form Voltron, after all?) While we looked around, a WEP representative amused himself with a pretty cool-looking videogame. (Could this be the classic Voltron multiplayer game from THQ? I didn't pry. I think he may have been using an Xbox controller.)
My real hope was to get some scoops on the first season, and maybe even see a little of the show. Almost no one outside the production has seen anything but the promo material, so I wasn't getting my hopes up. A lot of what I had wanted to ask has already been asked and answered on the official forums, so go there if you want to go deep. Seriously deep. "Why are Allura's eyes green instead of blue?" deep. Some other choice questions: "Are you going to explain how Lotor got his arm back?" "Are you finally going to address why robeasts wait so politely for Voltron to form before resuming their attack?"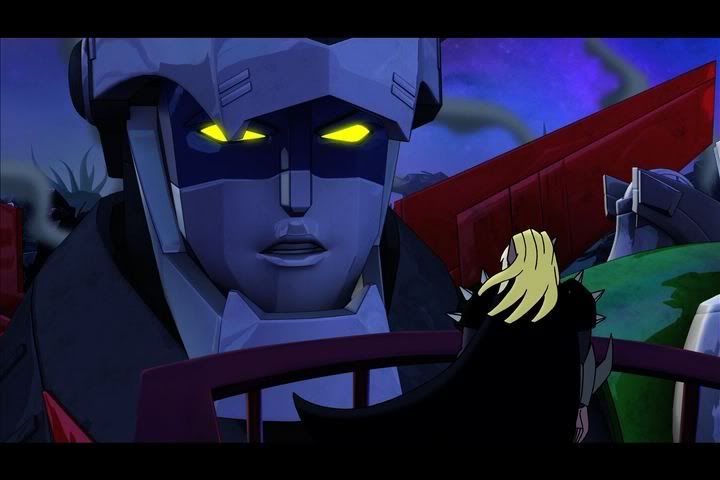 [Lotor and Voltron never could see eye-to-eye.]
I can tell you that the majority of the action takes place an indeterminate number of years after we last saw Voltron. (The circa they keep throwing around is "seven.") King Lotor (promotion!) is back as one of the major villains. Interestingly enough, another of the show's major villains, Sky Marshal Wade, appears to be an evil from within: he's a Galaxy Alliance official. There are also three young Voltron Force cadets, each of whom brings a unique talent to the table. I can't say too much about them, but I can reveal that one of them has hereditary ties to the people who built Voltron, and will be helping Voltron to unlock some untapped potential.
I think hardcore and longtime fans are most worried about these cadets. Voltron Force is a kid's show, three of the new characters are kids, and some fans are worried that it's all going to be cutesy kiddie fart jokes and that the new show will trample the legacy of the old. I guess I had my own worries before visiting the WEP office. I was never worried about it being too kiddie for my tastes. NickToons seems pretty confident about the show. I figure they wouldn't be so confident about it if they didn't think it had generational crossover appeal. They probably wouldn't be running it in prime time, either.
If fans are putting together a list of worries, my guess is that the second one down would be the animation. The character design has moved away from the anime style of the original, and more toward a Ben 10/Bruce Timm-ish style. The backgrounds are painted, the people are hand-drawn, and the robots are CG. I think people are afraid they'll be distracted by the 2D/3D clash. (That, or they're worried they'll be reminded of Voltron: The Third Dimension.) This is something else I wasn't worried about. I'm as big a fan of impressive animation as the next guy, but as long as I'm enjoying the story, I can be pretty forgiving.
Speaking of the story, this is probably third on the list of things fans are most worried about. Some want absolute fidelity to the original, and some just want to make sure characters they've come to love are done right. If I fall into a camp, it's probably the second one. I have some real affection for the Voltron universe. Occasional nostalgic touches and in jokes aren't required, but they're appreciated. At the same time, I want it to be its own show. (If it's not, then why bother making it?)
I can say with some conviction that I think it will be its own show, all while showing a fair amount of reverence. I'm not basing this off production artwork or promos. I'm basing it off the first five minutes of the pilot. Again, pretty much no one outside the show's production has seen it, so I consider myself fortunate. (I guess atrejub has seen it now, too. I don't want you thinking we sent her out of the room while I watched part of the show.) I'll tell you what little I can about it, and I'll tell you why I think it works.
The show opens with Daniel, one of the future Voltron Force cadets, being dared to make a dangerous jump. He doesn't consider it much of a dare, he says, because "I want to do it." (His attitude reminded me of young Kirk's at the beginning of Abrams's Star Trek.) While Daniel and his friends are mucking about, the Voltron lions charge in from out of nowhere and take on a robeast. The kids drop what they're doing and stare on in wonder and delight, as sure of Voltron's victory as I used to be those many mid-eighties Saturday mornings. Daniel announces with no doubt in his voice that he's going to pilot the Black Lion some day.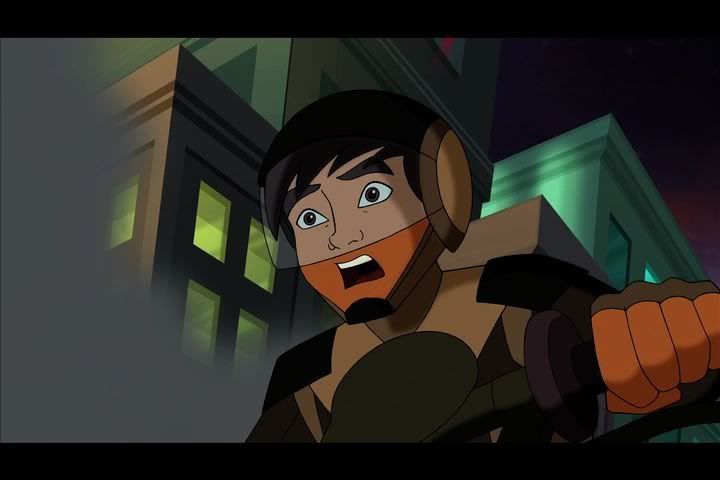 [Daniel, a new recruit, is startled by something big.]
It's a smart opening. It takes the old fans back to their youths, and invites new fans to be awed alongside Daniel and his friends.
The moment is then turned on its head in a way I don't want to spoil. I will say its immediate effect is that the viewer is left with a string of questions. It suggests an intrigue and arouses suspicions. A few minutes in, and it's already feeling more narratively complex than I was expecting it to. The most surprising thing about all this was not the narrative complexity. The most surprising thing was how much action was packed into this same space.
Looking back on it, it may have felt a little rushed. That, or I just wanted to see more than I got to see. They really do pack a lot in those first few minutes. I definitely saw enough to whet my appetite. The 2D-meets-3D animation worked better than I was expecting. I think Futurama has something to do with that. Somehow, rendering spaceships and robots in 3D adds more than depth. It makes them seem larger, too. I don't know if it's the cell shading or the fact that the outlines are thinner. What's most important is that it didn't take me out of it--nor did the new theme song, performed by Swizz Beatz. (Despite an impressive career going back to the late nineties, Swizz Beatz is better known to most as Mr. Alicia Keys.)
(I thought I should add a line here to assure lovers of the original theme that they will be hearing an updated version of it. "It wouldn't be Voltron without it," I was told.)
It's too much to expect an animated show to know exactly where it's going with the animation out of the gate. The Simpsons, Family Guy, and South Park are far from streamlined in their first seasons. Even Avatar: The Last Airbender had a shaky start. (The un-aired pilot looked particularly crude in comparison to later episodes.) WEP tells me that their animators are learning all the time, that the process is becoming smoother, and that they're becoming more and more impressed with the results. I think they have a good enough start for this to bode well.
In short, I thought it looked good. I thought while watching it how cool it would be to have a kid to watch it with me. Too bad my nephews and nieces are all five-hundred miles away. To heck with them, though. I don't need to surround myself with kids to watch Voltron. I don't even need to access my inner child. I plan on watching it as an adult with a love for animation and big narratives. I don't want to speak for atrejub (she can do that in the comments below), but she has no childhood history with Voltron, and I think her interests were also piqued by what we saw.
WEP gave the old "you'll have to wait and see" in response to some of my questions. What happens in the episode called "Hunkyard"? What powers does each new configuration give Voltron? (Fans are abuzz over a one-second clip of a red-headed Voltron firing blasters in space. The assumption is that whoever forms the head gets to control Voltron, and gets a unique set of abilities.) How will Haggar and Alfor figure into the new series?
I'll wait and see. Gladly.
Add Comment